PROFILE
We have focused on quality of our products over quantity since we started our business here in Ise, Mie and the corporate spirit holds on our corporate attitude that we must produce honest and respectable products.
We also focus on making stylish product design and high quality, not to mention superb taste.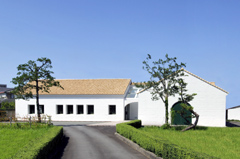 FACTORY
Our factory is located in a beautiful place with abundant nature and one with the most fresh stream in Japan; "Miyagawa" which runs near our factory.
We brew our products "COHNEN", "HALF MOON" and the rest here.